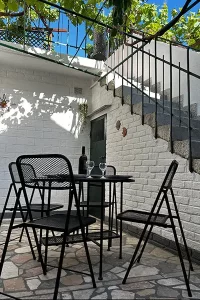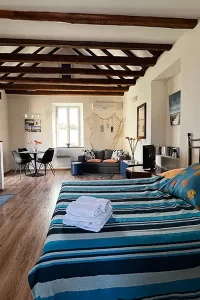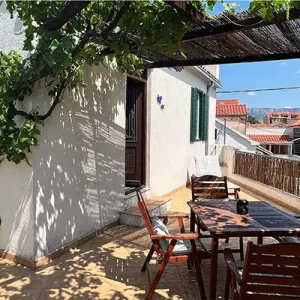 A fabulous property in the heart of Split and near great restaurants
Excellent location, everything is reachable by walking. The terrace area is outstanding
An amazing apartment. Beautiful, spacious and very well furnished. Comfortable bed and good shower 😊 The outdoor terrace was so private and peaceful despite the apartment being very central. The area is amazing. Very atmospheric with lots of restaurants and a great wine bar. Split old town is fantastic and the history is all around. In addition Marjan park and local beaches made it a varied few days. I would definitely recommend this apartment.
Studio was in a great location, close to the harbour/old town but very quiet. Photos and description matched studio. Ivana was very helpful (organised airport pick up and drop off) and very quick to respond. Airport pick up was fantastic as we had a late flight into Split. Would recommend.
It's a nice studio with decent bed and excellent terrace just 5 minutes from Split centre. Good for a couple wanting to explore the islands and local area.
Had a lovely few days. Ivana was very helpful and check in simple. Ivana was always on hand if I had any queries. Great location only a few minutes walk to some lovely cafes, bars, and restaurants. (Not rowdy, just lovely and bustling - I was travelling by myself and was perfectly comfortable; people very friendly). Also very close to Diocletian Palace for a lovely mooch around and good proximity to the harbour and waterfront. Apartment had all the basics and aircon. Lovely terrace for a glass of something in the evening. I would stay again.
Such a beautiful place! The terrace and building are perfect to start and end your Split trip. This cute studio is just the right amount of space and is very cozy. Absolutely loved the terrace and the fan / air conditioner. Great wifi! It does require a walk with your luggage (only accessible by foot) for several minutes, but that's what adds to the charm of this location. Tons of cute and quaint restaurants in this neighborhood, really happy we stayed here! Short walk to the boats and waterfront. We had a lovely stay at Ivana's apartment. The location was ideal and the apartment was very clean and had everything we could need.
We loved Ivana's airbnb! The location was perfect-it was close to everything (including great restaurants, ferries and even a launderette), safe and surprisingly quiet at night. The studio is located in a pedestrian area with lote of cute little cafes and restaurants so you can walk around and eat outside in the evening without having to deal with the crowds by the Riviera. If you want to save money and eat in, you still get the alfresco experience on the lovely terrace where you can sit under grape vines and bougainvillea. I highly recommend this apartment and its host. The best apartment you can find in central split!
Verified
Excellent Amazing trip with a wonderful apartment. This is perfect for a young couple or friends. I recommend it absolutely !!!
Verified
Great apartment in a great location What a lovely apartment. It really has everything you need. The terrace is a great place to eat your morning breakfast or relax in the evening with a glass of wine. Very quiet despite it being just a short walk to the centre. The bed is comfortable, the wifi is good, air conditioning is effective and quiet and there is plenty of hot water. If coming from the airport I can recommend the pick up Ivana, the local agent, can organise for you. There are loads of restaurants nearby. Particularly recommend Ciri Biri Bela but all the food we had everywhere was superb. You do need to book though for most places. We really enjoyed our break in Split and can recommend Studio Loza without hesitation.
rachelmuir2016
17 October 2019
Verified
Ideal location, very clean and comfortable, owner and manager a pleasure to deal with. This apartment is excellent value for money, in a quiet and picturesque street of the old town. Very good shower and thoughtful attention to detail throughout. A walk in one direction up the hill takes you to the national park - there's a bar with great views of the city and sea. A few steps down the hill and you're in town, great access to all amenities and the port for island trips, and easy to get home after a night out. The owner Alistair and on-the-ground manager Ivana are both extremely reliable, helpful and pleasant to deal with, and respond quickly to all queries. Thanks for a lovely stay and would definitely recommend Studio Loza.
outofedinburgh
9 September 2019
Verified
Perfect location, lovely apartment We had a wonderful stay here. It's only 5 minutes walk from the city centre but feels really peaceful. Lovely terrace for sitting out on and well equipped comfortable apartment. Lots of great value little restaurants nearby. Also very smooth airport transfers and great to be met by Ivana who made sure we had everything we needed on the first evening. We loved Split, a beautiful, vibrant city with lots to see and do, and a great base for day trips. And many thanks to Alastair for organising football tickets for us to see Hajduk Split play!
Verified
Great stay.... Lovely apartment in a great location, just a few minutes walk from the Palace. Everything you need, including great air conditioning!! The terrace is a lovely place to sit outside to enjoy the weather. Prices in Split are much less than we expected. Would recommend a trip over to Brac on the ferry, about £15 return for two adults. Ivana is very friendly with return taxi trips arranged for us from and to the airport. Highly recommend.
Verified
Awesome stay Wow great place to stay, everything is within walking distance and the view is wonderful, split is amazing the best part about this apartment is that you can hear the music playing from the Riva(waterfront) which really gives you a sense of vacation atmosphere. Just remember to pack light it is quite a walk up hill w a heavy suitcase!!! I will definitely stay here again, thank you so much Alistar for the hospitality ????
amcfadzen
18 September 2017
Verified
Well located apartment with a great terrace This apartment is in the old and atmospheric part of town just a short walk from all the main attractions. There is a little supermarket close by as well as many really good restaurants. Although small the studio has everything a couple would need for a short stay. The best thing is the terrace from which you can even glimpse the sea. The apartment manager is friendly and helpful and the airport transfers arranged by the owner meant we had a smooth and stress free arrival and departure.
Verified
großartiges Apartement, idealer Ausgangspunkt für alle denkbaren Aktivitäten Das Appartement ist ein wundervoller Ort, von dem aus man alle Aktivitäten begonnen werden können, die sich in Split anbieten: 10 Minuten zu Fuß zum Palast, 20 Minuten zum nächsten Strand, zu den Schiffen oder zum Ausgangspunkt für Wanderungen.Das Appartement selbst geräumig und komfortabel und praktisch eingerichtet. Die Veranda ist der ideale Ort um den Abend zu genießen und den Tag ausklingen zu lassen.Besonders großartig ist die reizende und sehr kompetente Betreuung, die zu allen örtlichen Themen ansprechbar ist.
Verified
Tommy Rapp Great apartment! Best location, super nice terasse and close to both old town and beaches. Very nice restaurants just around the corner. I would return any day! Thanks to superb Ivana for her good advices and friendly welcome. All the best!
Verified
Perfect little apartment with an amazing terrace This apartment was perfect for our stay in Split it had everything we needed and a beautiful terrace perfect for sunbathing and dining. It is in a perfect location surrounded by beautiful traditional buildings and so close to the palace as well as the Marjan with all its beautiful beaches. Also close by are some lovely little restaurants on small streets which we really enjoyed. We would not hesitate to recommend this place to anyone.