Our Top 5 Restaurants in Split
Although there seems to be a cafe around every corner in Split, it is only in recent years that the city has gained any great number of good places to eat. Thankfully, it now boasts a huge range of restaurants, bistros, konobas (restaurants with a smaller menu), and fast food outlets.
Some of the best eating places in Split are close to Studio Loza, so here's an entirely personal choice of places worth trying when you rent the apartment.
Konoba Marjan
Senjska, 1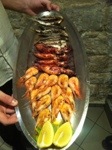 Literally two minutes down the road from Studio Loza, Chef Marija cooks the best fish plate in town while front of house manager Josip ensures guests have a great evening. What's on the fish plate will depend on what Split's fisherman have caught that day, but it's guaranteed to be fresh and is always great! (Minimum of 2 people for this dish). They also offer individual fish dishes, great pastas, lovely risottos and some superb meat dishes. The Konoba is charming and air-conditioned.
Bajamonti
Trg Prokurativa
A new addition to the Split restaurant scene, Bajamonti (not to be confused with a restaurant of a similar name located in the Palace area) offers modern European cuisine using fresh local ingredients. Built into a converted old cinema, the downstairs area is a large bar/cafe, while the balcony is for dining. The extensive outside area with views down the square to the sea is for both.
Zlatna Vrata
Dioklecijanova 7
Built into a medieval palace the courtyard area of the Zlatna Vrata is simply wonderful, as are the pizza and pasta dishes. The jumbo seafood pizza is easily enough for two and its great value too.
Tri Vaulta
Aljesijeva Ulica
This tiny bar come restaurant is tucked away between the Peristil and the sea wall of the palace. The only way to find it is to go to the Peristil and follow the little yellow signs marked 'Grill'. At the Tri Vaulta they serve locally sourced 'Prsut i sir' (pronounced 'pur-shoot-ee-seer') which is Prosciutto & cheese, served with bread. They also do hot dishes and sometimes have a grill/bbq in the evenings.
Sperun
Sperun, 3
Just past the Konoba Marjan, Sperun is always busy, thanks to its great food, good service and outside tables. The Brudjet , which is a sort of Croatian bouillabaisse, is really good.
… And if you want something cheap and tasty to eat on the run, then try the burek shop just off the north-east exit of the main piazza (Narodni Trg). It's a little fast-food place frequented by students where you can buy burek, which are flaky pastry slices filled with cheese or meat, and you can also get fornetti, which are little bite sized savoury pastries.